Ressourcenschonender und extrem schlanker DynDNS Client.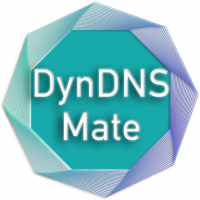 Even today there are routers (e.g. from Vodafone) that do not support DynDNS. Or the selection is fixed and the desired provider may not be available. If there is then no possibility of storing a self-defined update address in the router, the only option is to use an external client. And this is where DynDNS Mate comes into play.
It is an extremely slim DynDNS client that basically does nothing other than access the individual APIs of the providers in the background with the "curl" command (which is supplied by the system) in order to update the IP address stored there . Optionally, the update check can also be installed as a LaunchDaemon. This means that after every system restart, this query is carried out permanently at a defined time interval. No annoying dock or menu symbol. If you want to deactivate the automatism again, it can easily be switched off again via DynDNS Mate.
Which providers are currently supported?
The following providers are currently available:
ChangeIP
DuckDNS
DynDns
EasyDNS
FreeDNS
Hurricance Electric
NoIp
Strato
More will follow in time.