Führt selbstdefinierte Scripte bei verschiedenen Systemereignissen aus.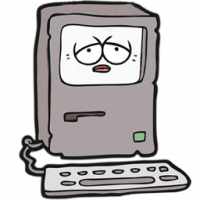 Sleep-o-Mat offers you the possibility to have scripts (Bash, Python, Ruby ... etc) executed automatically in the event of system events.
How does Sleep-o-Mat work?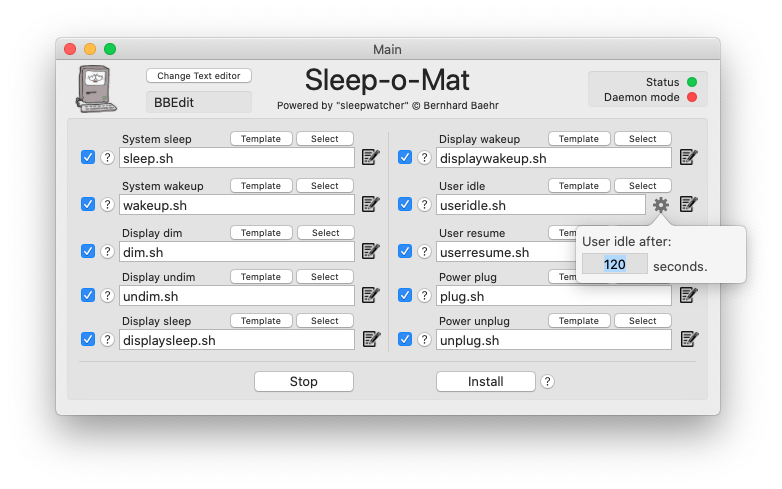 Sleep-o-Mat loads the command line program "sleepwatcher" in the background and adds the stored scripts as arguments.
Es lässt sich entweder als LaunchAgent installieren (das heisst nach jedem Systemneustart wird sleepwatcher im Hintergrund automatisch geladen), oder es wird je nach Wunsch mittels Sleep-o-Mat gestartet bzw. gestoppt. Ob und in welchem Modus es gerade läuft lässt sich am Status oben rechts erkennen.
Zusätzlich bietet Sleep-o-Mat Vorlagen für jedes Ereignis welche sich direkt mit dem Bearbeitungsicon verändern lassen. Daher braucht man die Scripte nicht manuell anlegen. Einfach auf den "Vorlage"-Button klicken und sofort beginnen. Als Standardvorlage kommt hier Bash zum Einsatz. Natürlich kannst Du auch andere Scriptsprachen (Python, Ruby, … ) die auf Deinem System vorhanden sind nutzen.
The following system events are supported:
System goes into sleep mode
System wakes up
The display dims
Display dims up
The display goes into sleep mode
Display wakes up
User is idle
User continues
Power supply is connected
Power supply is removed