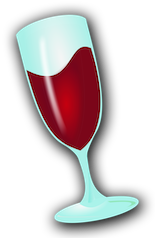 Source: GOG
min. macOS 10.15.4 (Apple Silicon compatible)

Notice:
This is the GOG Gold version which already includes the expansion "Cleopatra". Optionally, the game can be switched to German. Just press the corresponding button. A widescreen patch has already been integrated.
The window mode is created with DXWnd . 
Depending on whether you are playing in full screen or windowed mode, you will need to select the following once the game board has been loaded in the "Options/Display" menu:
"Window Screen" or "1024×768 Resolution". 
The latter is representative for the resolution you selected in the Config app in connection with the full-screen mode. If you do not select it, you may have problems with scrolling. If you have more than 1 monitor connected and use the window mode, please note that the window only works on the main screen. If you drag it to another screen, the game will pause.
To remove/deactivate the intro video click on "Open C:" and in the folder
"GOG Games/Pharaoh Gold/BINKS/High" remove the file "intro_big.bik".